Our Friends

Friends... Family... Community Partners!
Denys Beecher
Dena Beecher
Charlotte Benson
Jeannie Benner
Linda Brown
Susi & Toney Brzezowski
The Burch Family
Bill & Betsy Burdette
Troy Collette
David & Shannon Council
Bud & Terri Curtis
Arthur & Kathy Fleck
Kim Fisher & Family
Jennifer Franz
Mark Freeman
Rena & Bill Gezzar
Christina Gezzar
David & Kaye Higgins
Nick & Miriam Hubble
David & Fran Huck
Charles & Mary Johnson
Linda & Jack Johnson
Springer & Darline Johnson
Veda Johnson
Carl Johnson
Bob & Donna Kaye
Ralph Kitchens
Bud & Sherri Kingsley
Earl & Mildred Kiser
Melody Klasinski
Eric & Manuela Koch
Frankie Margolin
Barry & Amy Marz
Marlene & Bill Masterson
Paulette McGuire
Bob Messeinheimer
Dominick & Frances Minella
Tom & Melody Morell
Nolin Moon
Mike & Ann Morgan
Pat & Lou Donzelli
Elisabeth Nicholson
Bill O'Connor
Cindy & Bob O'Connor
Gail & Jim O'Connor
Jeanne O'Connor
Karen Tanner
Tara O'Connor
Pat O'Connor-Benson
Kara & Andrew O'Neil
Nina & Don Paight
Barbara & Eric Palazzo
Brad & Sheri Palazzo
Norb & Gloria Zebny
Ruth Pelter
Corey Purcell
Eileen & John Quinn
John & Lisa Randall
Michele Ritrosky
Maury Salvesen
Ron & Jeri Schoof
Betty Toutant
Marion Vale
Shannon Vickers
Ron & Marsha York
Kim & Michael Whittey
Jenny & Chris Yake
Marsha Oken
Diana Petronsinelli
Hank & Carole Richardson
Corporate
BB&T Bank-North Fort Myers
BB&T Bank- Fort Myers Beach
Cape Coral Bingo, Inc.
Hill, Barth & King
Huhes, Snell & Co.
Markham, Norton, Mosteller, Wright & Co.
Allyn International
Southwest Florida Restaurant investments
Visual Artrs Center
Promotional Incentives, Cape Coral
Civic Groups, Churches and Schools
Covenant Presbyterian Women of Covenant Presbyterian Church
Classical Discussion Group
City of Fort Myers
Florida Reparatory Theater
Guiding Light Church
Gulf Harbor Memorial Foundation
Interior Design Society of Lee County
Noonan Academy
North Fort Myers Women's Club
S.C.A.T. Tennis League
Southwest Florida Community Foundation
SW Florida Fencing Academy
Up River RV Resort
Our Lady of the Miraculous Medal Church
Bayside Socialites
Other Organizations You Can Help…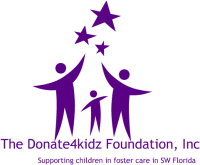 The Donate4kidz Foundation is an organization helping foster kids AND their foster parents.  "We Care" packages contain items children need when entering foster care since they usually arrive with few or no belongings. These bags belong to the children and will go with the children wherever they journey.  If you're a foster parent who would like to receive a "We Care" package for your child -OR- if you would like to donate clothing to Donate4Kids, click here for more info!