Gift of Hope

A gift of giving!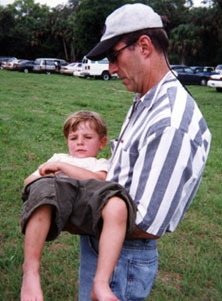 The "James P. Benson Gift of Hope" has been awarded annually since 2004. It was established in memory of James P. Benson – a tireless advocate for children in our society who – through no fault of their own – experienced life's hardships and pain without the support of a strong and loving family.  He was especially moved by the plight of those children who were graduating high school students, suddenly "aging out" of foster care and facing the world on their own.  The "Gift of Hope" fund was established shortly after Jim's death and is now awarded to these young adults in our community who best exemplify a giving spirit by assisting others in need and passing along the "Gift of Hope."
Caseworkers, caregivers, teachers, clergy and guardians-ad-litem all generously contribute their time to the "Gift of Hope" nominating process.  Candidates are selected annually with the assistance and support of local agencies, including The Children's Network of Southwest Florida.  The Gift of Hope is then presented at a luncheon each August to up to three very deserving young adults who have continuously demonstrated those qualities that have served to lift them beyond their own adversity while also providing comfort and care to others in their world.
To date, over $30,000 of your donations have gone directly to those deserving teens who were selected each year to be our "James P. Benson Gift of Hope" recipients!
Donate to The James P. Benson Gift of Hope by sending your check to:
Foster Care Advisory Services, Inc.,
c/o Rena Gezzar, Treasurer
1820 Whitecap Circle
North Fort Myers, FL  33903
-OR-
THANK YOU!